In the last five years, a new trend in fighting for action and attention for climate change has emerged. Multiple NGOs, climate organisations and groups of citizens have sued governments and international organisations, such as the European Union, for their part in polluting the earth. In this blogpost, I will discuss the history and strategy of climate change litigation and its prospects.
Urgenda & the history of climate litigation
In 2015 the first-ever lawsuit against any government about reducing greenhouse gas emissions was won by Urgenda. In the now famous Urgenda case, the Dutch government was sued for neglecting the promises made in the Paris Agreement.  Despite two attempts by the Dutch government to overrule the initial verdict, The Supreme Court decided in December 2019 that the Dutch government must reduce its greenhouse gas emissions with 25% this year, 2020, compared to 1990.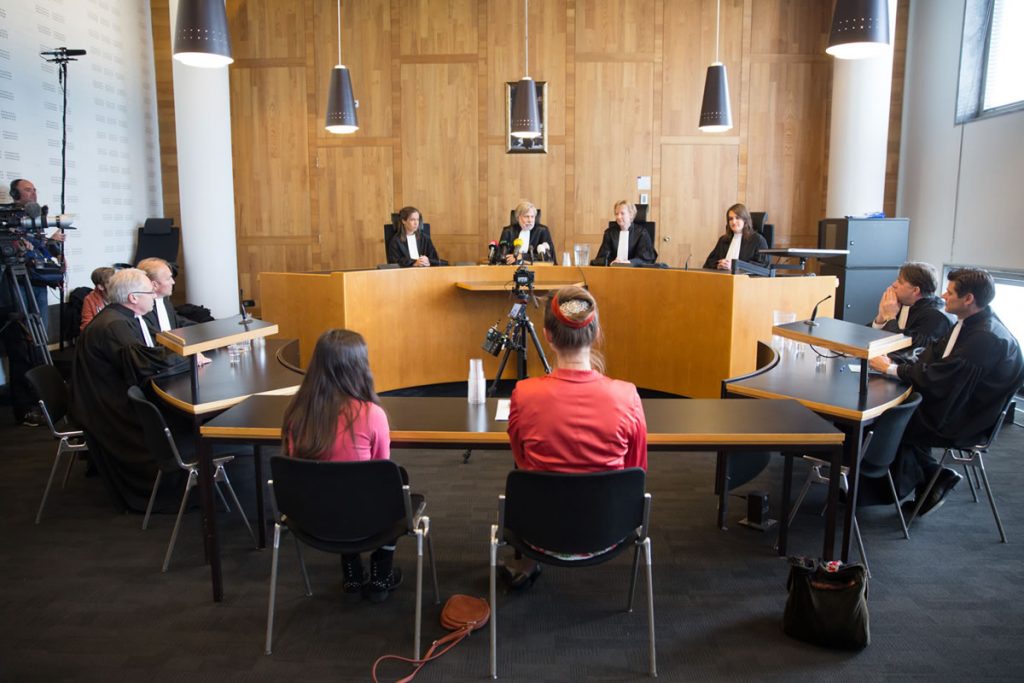 Following the Urgenda case, similar cases were started by citizens in several other countries. In the following countries groups of citizens have already sued their government for their lack of effective climate policy:
Belgium
Canada
Colombia
France
Germany
India
Ireland
Italy
New Zealand
Pakistan
South-Korea
Switzerland
United Kingdom
United States
Some of the cases are still ongoing, while others already saw the final verdict. Unfortunately, not all of these lawsuits were successful. Nevertheless, the fact that in multiple cases the plaintiffs won against their own government in cases regarding insufficient climate policy shows that such lawsuits have great potential.
Another recent example of climate litigation in The Netherlands is the new nitrogen policy. In 2019, the policy regarding nitrogen (PAS) was rejected by the Council of State after a lawsuit from multiple citizens. The old policy allowed extra nitrogen emissions if it would be compensated in the future. Now, after the lawsuit, no new nitrogen emissions are allowed, unless compensated with direct reduction of other nitrogen emission sources.
The Oslo Principles
In 2015, around the time of the Urgenda case, a group of international law professors, High Court judges, and jurists published the Oslo Principles on Global Climate Change Obligations. The Oslo Principles are basically a guideline for other jurists to show that governments have an obligation to protect their people from negative effects of climate change, even if the government did not make promises in the Paris Agreement.  The Oslo Principles mainly rely on human rights and environmental laws to argue why governments are legally obliged to prevent harmful effects of global warming to affect their citizens. The Oslo Principles are an indication that such lawsuits have at least a decent chance of success, as important international jurists are legally making a case for the inaction of governments on climate policy.
Polluting Companies
Not only governments are being sued for harmful climate change effects. Citizens, but also different Counties and States in the United States have sued polluting NGOs for part of climate change. There are currently cases against Shell, ExxonMobil, RWE, and many more big emitters, to hold them partly responsible for current harmful climate change effects. If these cases are successful, it is highly likely that many more will follow. This could have two possible positive effects:
The NGOs will be overloaded with claims, leaving them no choice but to reduce their emissions and look for alternatives to prevent more claims in the future.
The NGOs will be legally obliged to reduce their emissions by either making a deal with the plaintiffs or by the verdict of the judge.
Prospects
Even though climate change litigation is relatively new and the actual impact it has made, globally, is still rather small, I see it as one of the major ways in the future to fight climate change and actually make an impact. The success in the Urgenda case (and other similar cases) in addition to The Oslo Principles will not only give a good legal basis for new cases, but also encourage new lawsuits since it has proven to be successful in the past. Furthermore, there are multiple groups to target. Both governments and NGOs can be sued for their inaction in climate change mitigation and past greenhouse gas emissions. And thus, both governments and NGOs will have to act in climate mitigation and adaptation.
The main reason why I see it as a very important means for action, is that the governments and NGOs will be legally obliged to meet the verdict. Without climate change litigation, governments tend to make climate change policy for the next decades, while doing little to nothing now. Climate change litigation is perfect to ensure that those governments and NGOs actually start reducing their emissions now instead of making vague plans for the future.
Hopefully, we will soon see a boost in climate change mitigation caused by climate change litigation.